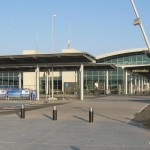 Since Cyprus is a small island, the vast majority of visitors come by air. There are two airports in the south of the island: a small one in Paphos, and a larger, recently modernised one in Larnaka. There are several different airlines which operate flights to Cyprus from the UK and elsewhere.
Gone are the days when travel agents were the best place to find good prices. If you want to find the best value flights, you will have to spend some time looking at the different flight operators' websites. We usually start with a general flight checking site such as SkyScanner, which is very helpful for giving an indication of the best prices and which airlines are available for our chosen routes. It is best to have flexible dates so that you can check the varying options for different days of the week. School holidays times – including British half term breaks – tend to make the prices soar.
However when we've found what looks like a good option, we go directly to the airline's own site, rather than booking through the general site. We know of several people who have had poor experiences when things go wrong when they have not booked directly with the airline concerned.
Note that many airlines have both 'economy' priced seats, and super-economy too, which often sell out quickly. If you find a good value flight on the dates you want, it is best to book it immediately. Sometimes even a few hours' delay can lead to all those seats being taken. After that, only higher priced seats are available.
Important: Make a note of what is included in your flight and what is extra. Some airlines include checked luggage in their basic fare, most do not. Most flights allow at least one small personal item of cabin luggage, sometimes two; but make sure you check the sizes. In many budget flights, you are not permitted anything that's too big to fit under the seat in front of you. Upgrades are usually available to allow for larger carry-on or checked baggage, but they may put the prices up significantly.
A few airlines still provide free meals and drinks, but most charge extra, or sell snacks on board. Some airlines charge extra for paying by credit card. Then there are some which do not tell you the airport tax costs until you are about to finalise your transaction. A flight which appears excellent value at first glance may turn out to be quite expensive when you take into account the 'extras'. Read the airline terms and conditions too, to find out whether flight dates can be changed if necessary. Check whether there is a refund if you have to cancel. You may want to take out flight insurance if this is likely to be a problem.
Below are links to some of the airlines which we or friends have used for flights to Cyprus from the UK, in recent years. They are not the only options, however. If you have other recommendations, please let me know. If you are flying from somewhere other than the UK, you may sometimes find that it is better value to book a flight to London first. Then you can book a separate one to Cyprus and that may be better value than taking a direct flight.
Direct flights to Cyprus from the UK
British Airways – If you want to fly from London Heathrow Airport, BA may be your best option. Snacks and water are usually provided, though you should check in advance as it varies depending on the length of the flight. Some food can be purchased on board although the menu is somewhat limited, and last time we flew with them they had run out of sandwiches by the time the trolley was half-way up the aisle.
Seats are reasonably comfortable, though not as spacious as they used to be, and the staff are usually helpful. They have direct flights most days, usually more than one in high season. Prices vary enormously, but in our last BA flight we were allowed full-sized cabin baggage (ie too big to go under a seat) free as well as a personal item. 
EasyJet – Probably our favourite of the no-frills airlines. They fly from various airports in the UK including London Gatwick and Stansted. A bonus is that while checked luggage (which has to be paid for) is limited to the usual 20kg, and hand luggage has to go under the seat, unless you upgrade, the only weight restriction for hand luggage is that the passenger must be able to lift it.
Upgrading to allow full-sized cabin baggage is not unreasonable with EasyJet, and if you need to add in checked luggage, even well after booking, the prices are not extortionate.
Jet2 – We've used this airline once or twice, and found them entirely acceptable as a budget airline. They don't fly from all destinations, and not necessarily every day, but if they are the best value, and fly from a convenient airport, then they're certainly worth considering.
Like BA on our last flight, Jet2 currently allow a full-sized piece of cabin baggage in addition to a personal one; but be sure to check the details before you book, as airlines seem to change their baggage policies regularly.
Wizz Air – This is one of the newer budget airlines which offers excellent prices if you're willing to travel with only small items of hand luggage. As soon as you want to take more, even if just large cabin baggage, the charges are extremely high. So Wizz can be a good option for students visiting family, taking just a backpack; but they seem to have more cancellations and last-minute changes than many airlines, so I wouldn't recommend them if you're travelling just a day ahead of an important event such as a wedding or graduation.
Direct charter flights (peak times of year only)
Thomas Cook – mostly package flights, usually just available during the summer and other holiday periods. You can book just flights with them as well as entire holiday packages, which can be excellent value if you choose an off-peak time when they are still operating. Note that your flight may be filled with noisy holidaymakers!
TUI UK (formerly Thomson) – similar to Thomas Cook, this airline offers package deals, or seats on charter flights at certain times of year.
Flights via other European countries
Lufthansa – flights via Germany (Dusseldorf, Frankfurt, Munich or Zurich), with varying length stopovers. They provide meals and drinks, and are reasonably comfortable. Prices vary enormously, however; sometimes they can be excellet value, sometimes extremely expensive. If you use this airline, do check that your connections in Germany arrive and leave from the same airport!
KLM – flights via Amsterdam, with friendly staff and reasonable service. Often not particularly good value to Cyprus, however.
Austrian Air – flights via Vienna. Reasonably comfortable, friendly staff, basic meals. Can sometimes be good value. 
Aegean Air – flights via Athens, which is not as close to Cyprus as many people imagine. Again, prices and times vary.