Cyprus is a delightful place to live or visit in the springtime. The chill of winter has mostly gone, and while there are usually a few days of rain – possibly some storms – for the most part, the sky is blue and the sun shines almost continually. The parks and hillsides are green after the winter rains, and there are an abundance of wild flowers. Spring weather in Cyprus is, for many, ideal.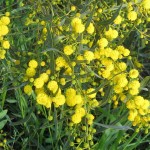 March is often known as 'yellow month' in Cyprus. There are yellow coloured wild flowers almost everywhere at sea level, and delicious-smelling blossom on many trees.
March can, surprisingly, be colder than February sometimes, although by the end of the month there is more predictable sunshine and much warmer nights. We usually switch off our central heating by the end of March, and move from a thick duvet at night to a medium one.
April is the perfect month for people used to British weather. The sun shines nearly every day, and the temperatures around the coast range from about 18-22C, usually, albeit a little colder at night. There can still be rain, often tropical heavy thunderstorms which may even contain hailstones, but which don't tend to last more than a couple of hours, after which the sun shines once more.  We still tend to wear long trousers and sweatshirts for most of April, but many tourists go around happily in tee-shirts and shorts.
By May, the Cyprus weather begins to feel distinctly warm for much of the time.  There's more sunshine and less rain, although there can still be an unexpected storm, or a few overcast days. We start thinking about switching to our thinnest duvet overnight at some point during May, and we mostly don't bother with sweatshirts, though we might put on light jackets in the evenings.   Summer is definitely on the way.
Temperatures generally range from about 20-28C during the daytime, 10-20C overnight. There can be a brief heatwave with temperatures soaring up to 32C or more, but this doesn't usually last more than a couple of days.
See also:
Cyprus weather in Summer
Cyprus weather in Autumn
Cyprus weather in Winter
Cyprus weather forecasts
For a reasonably accurate ten-day forecast, the UK Weather site seems to be the best we have found. Choose from: Larnaca weather, Nicosia weather, Paphos weather, Limassol weather or (much colder, usually) Troodos weather.