There are Anglican (Church of England) church congregations in each of the major towns in Cyprus, and a number of other English-speaking Protestant church groups. These are mostly evangelical, including Reformed Presbyterian and various independent congregations.
These churches are mostly run by ex-pat Brits (many of them retired), with some other Europeans, and a few Americans, Canadians and South Africans. There are also a significant number of international students, as well as some ex-pat Christian workers from around the globe, and sometimes a few locals.
Protestant Churches in Cyprus are generally fairly informal, with no particular dress code. All are welcoming to visitors. Many of them have small mid-week groups for fellowship and Bible study, as well as youth groups and some children's groups on Sundays or mid-week.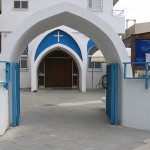 In Larnaka, you can find:  St Helena's (Anglican) and Larnaka Community Church.  There is also an International Evangelical church, Trinity Fellowship (Reformed Presbyterian), and a bilingual house church. There are also a Greek Evangelical Church, a Chinese Fellowship, and several small Filipino Church congregations.
In Nicosia, you can find: St Paul's Cathedral (Anglican), Nicosia Community Church, or New Life International Fellowship (evangelical).
In Limassol, you can find:  International Christian Fellowship which has several congregations. There are also: Limassol Church of Christ, or St Barnabas (Anglican).
In Paphos, there is: Paphos Christian Fellowship International. There is also the Anglican Church of Paphos.
In Ayia Napa there is:  ChristChurch Ayia Napa.
A little off the beaten track in Deryneia you can find St John the Evangelist Anglican Church.
See also: