The official Summer season continues in Cyprus in August, with a steady influx of tourists. In common with many Mediterranean countries, Cyprus also observes a two-week general break, either the first two weeks or the middle two of the month, when many businesses – including shops outside the tourist zone – close down, enabling the staff to take time off with their families.
If you're staying at a hotel or an apartment by the beach, this is unlikely to affect you since restaurants and tourists shops stay open during the whole of August. But if you are staying with friends or renting somewhere outside the touristy areas, you may find that many shops are shut, with nothing more than a scrappy paper notice on the door letting customers know. Supermarkets do stay open all year round now, even including the official siesta time (approximately 1pm-4pm), as do bakeries, but clothes shops, smaller fruitarias and even some pharmacies will take time off during August.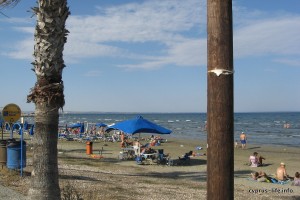 Nonetheless, Cyprus is a popular destination for families and singles during August. There is almost certainly continual sunshine and heat, with mostly clean beaches and a generally safe atmosphere. You might have your purse stolen if you leave it on view, but children are generally safe, and there's little problem for groups of people walking around after dark. Restaurants are highly regulated these days, and there is a wide choice of food, even including some vegetarian options.
As in July, the main beaches in Cyprus are crowded at this time of year, but if you rent a car for a few days, you can drive to more secluded areas, or even into the mountains if you would like to escape the humidity for a while.
Festivals in Cyprus in August
There is just one religious festival during August – the Feast of the Assumption, on August 15th. This is the day when the Orthodox Church celebrates the belief that the Virgin Mary was 'assumed' into heaven when she came to the end of her life. Main tourist shops and restaurants stay open, but banks are likely to be closed, as are Post Offices.  Most small businesses and shops will be taking their two-week break on this date already.
See also:
Cyprus in January – Cyprus in February – Cyprus in March – Cyprus in April – Cyprus in May – Cyprus in June – Cyprus in July – Cyprus in September