I very much like Cyprus in October. It can still be very hot at the start of the month, but by the end temperatures have started to drop. It's an ideal time for visitors, as the crowds of the Summer months have departed. Yet the beach sun-beds and umbrellas are still available, and the sea is still reasonably warm.
Having said that, when we first arrived to live here towards the end of October 1997, it felt far too hot for me. But we came to live, not for a holiday. Now we have acclimatised better, and the temperatures of 25-28 feel almost cool. We no longer need to use our air conditioners in October, and sometimes we want light jackets in the evenings.
There is usually some rain in Cyprus in October, and it's very welcome. While there is some rain in the mountains even in the Summer, there's no rain on the coast. Sometimes it stays dry from May until October, and the island looks quite brown. The first rains settle the dust, and everything looks cleaner and brighter. Then, surprisingly quickly, weeds and wild flowers spring up to cover bare ground.
Festivals in Cyprus in October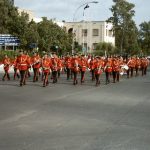 Cyprus Independence Day falls on October 1st. While many have forgotten what is celebrated, this marks the date when Cyprus became independent from the UK in 1960. October 1st is a public holiday, and is marked by military parades. Schools and Scouting organisations march too, and the town bands often play.  Bunting hangs in the streets to mark this date. There are even some roads called '1st October Street'.
Ochi Day is the other important holiday in Cyprus in October. The word 'Ochi' (όχι in Greek, pronounced with a soft 'ch' like the Scottish 'loch') simply means 'no'.  Ochi Day falls on October 28th, and is celebrated in Greece as well as Cyprus. It remembers the date in 1940 when the Greek prime minister said 'no' to an Italian ambassador from Mussolini. The Italians wanted to place troops strategically in Greece, and said that otherwise they would go to war. When the prime minister said 'no', the Italians attacked.
Ochi Day is celebrated in a similar way to Cyprus Independence Day. The bunting usually stays up all month, and there are repeats of the parades through the main streets. In Larnaka, the parade is down to the sea front, and takes place in the morning.
While restaurants and hotels stay open, and some supermarkets too, schools and small businesses close.
While the end of October is taken up with Hallowe'en in many parts of the world, this is mostly ignored in Cyprus. Some years ago it was officially frowned upon by the Orthodox Church on the island. We have never been bothered by children playing tricks or asking for sweets in the evenings.