The UK in November can be grey and dreary, with almost continual rain. Cyprus in November, by contrast, is usually still reasonably warm, and often sunny. There can be rain in November. Indeed, those of us who live here hope there will be plenty. But when it stops, the sun usually shines almost immediately afterwards.
We have had visitors in November who were surprised by the sunshine and warmth. While nowhere near the high temperatures of July and August, November still often begins pleasantly.  Twenty degrees Celcius is ideal from my point of view, and sometimes the temperature is higher in the daytime.
Often there's quite a sudden drop during the first week or ten days of the month. By the middle of November we have usually put away our shorts, and are wearing jeans and sweatshirts again. We get out our lightweight duvet, and make sure we have raincoats or umbrellas when we go out. We start to think about getting our central heating service, too. However, it doesn't usually get really cold until nearer the end of the year; sometimes it stays mild all season.
Beaches are usually deserted in November, with only the hardiest swimmers venturing out. Seaweed tends to accumulate, and the authorities don't usually clear it away until the spring. The beach umbrellas are packed away, and many of the ice creams stalls close. But while it's really too chilly for sunbathing in Cyprus in November, there are some lovely walks along the more deserted beaches. Others, such as those in the towns, often have promenades specially built for walking.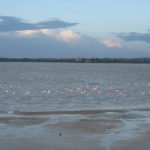 Visitors in the summer months find it difficult to walk more than a few metres in the extreme heat and humidity. But November is an ideal month for those who like a bit of exercise. If you are in Larnaka or one of the other areas with Salt Lakes, you should be able to see vivid pink flamingoes.
These migrant birds usually arrive in mid-October, after the rains begin to fill the Salt Lakes with water. Sometimes there are thousands of them, making quite a noise early in the mornings. They stay through the cooler months, departing usually in April or May, once the lakes start to dry out again.
Festivals in Cyprus in November
As far as I know, there are no Cyprus festivals in November. Although in the Western church, All Saints' Day and All Souls' Day are marked at the start of the month, these are at different times of the year in the Greek Orthodox Church.
However, some of the locals have adopted the somewhat barbaric Guy Fawkes Day/Bonfire Night which is so popular in the UK. Some of the English speaking schools will have fairs or firework evenings, which may be open to the public.
American families will, of course, celebrate US Thanksgiving on the fourth Thursday of November. Schools with an American origin may give the students a couple of days off, but this is becoming less frequent. Since Thanksgiving is usually celebrated with families and friends, it's unlikely that visitors would be able to take part in any celebrations. Cyprus does not generally recognise it, so you probably won't find relevant decorations in shops.
Sometimes in November there are concert programs in the town halls or along the sea-fronts. Occasionally there are musical productions that tour the island in the cooler months, too. You can ask at the local tourist information office for recommendations.